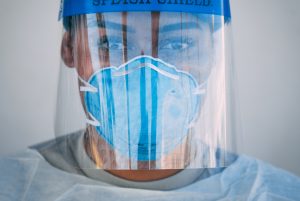 The CORVID-19 pandemic and our response to it has exposed systemic flaws in our civilization in a crescendo manner. The protagonist in this moment is the federal government, which was by benevolent design intended to have command and control of the resources necessary to mobilize a response at the scope and scale necessary to deal with a national emergency. In my emergency management career, I have worked for government at all levels, including FEMA. For the most part I'm an unabashed believer in government, at times like this especially. I shake my head when I see how government has been stripped of its power (and effectiveness) and replaced with laissez-faire economic liberalism and free market capitalism. Starting with Reagan, the solution to waste and inefficiency in government (not to mention increased taxes and regulations) was to reduce the size of government and shift its traditional duties and responsibilities to the private sector. A neutered government rendered incapable of mounting the necessary response in a timely manner. The end result? The circulation of do-it-yourself recipes for constructing face masks. Shame on us.
It wasn't always like this. During the mobilization for WWII, the Richmond shipyards on the west coast built a ship a day. That's right, a ship a day. That was before neoliberalism. Look at us now. When President Trump was pressed to enact the Defense Production Act to manufacture masks and ventilators that are in short supply and critical to mitigate the pandemic and save lives, he basically said the private sector will handle it, refusing to enact the statute. Excuse me? Do you mean to say that the private sector where parties are competing with one another relentlessly pursuing profitability are going to cooperate and scale up in a timely manner? The slogan now being heard in widening circles is 'people before profits'. Hence the tyranny of private sector corporations that have no accountability to the people. None whatsoever. Of course, as everybody knows people can vote with their dollar and take it elsewhere. Meanwhile, how many people will become infected and die during this pandemic? Government anyone?
The rich and powerful who have by omission or commission neutered government are to blame for the present situation we find ourselves in. Their emissary in the White House is their wet dream come true, a person mentally deranged, a loose cannon if you will, but brazen enough to do the unthinkable. Like refusing to utilize the Defense Production Act. The elite who can afford treatment at any cost simply do not care. In this moment I witness neoliberalism as being vicious, cruel and uncaring. Democratic socialism anyone?